4-Lite Blinder - Par 36
330017
4-lite blind in really good quality from Kupo. 2lite and 4lite blinder are known as audience blinder or Molefays and are used especially during concerts, but also for TV productions as backlight effect or audience light. These 2Lite and 4Lite blinders are built in a robust lightweight aluminum construction in a black matt finish. The bulbs are in series of 2 and 2 and the 4lite blind can rotate in the two parts so you can position the light.

The blender comes with 2 x 1m (3x1.5) cable mounted (2 ch). Only use tools on the screw terminal itself on the bulb when changing bulbs. The bulbs that fit are General Electric's DWE (see under "fits")

- Lightweight luminaire
- Good ventilation
- Easy bulb change

Note: Bulbs not included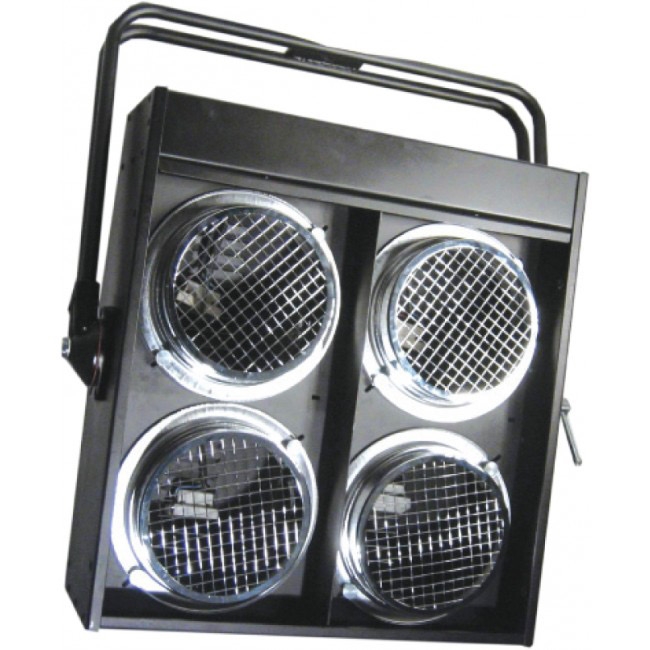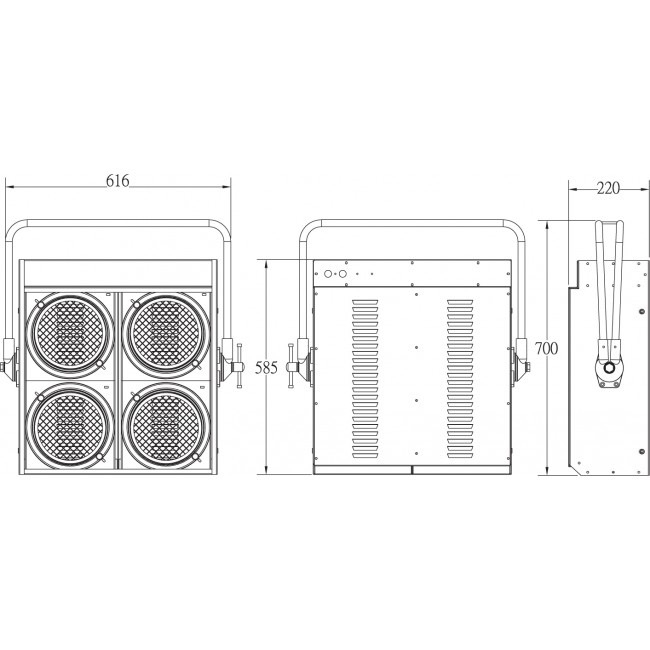 Description
Features:
1. Lightweight:
Kupo's whole range of blinders are constructed by thick gauge of aluminum alloy metal sheet which makes the fixtures rigid and lightweight. This is the reason why it passed the devastated touring on road.
2. Better ventilation:
It is designed with louver type ventilation holes on the rear plate which brings better ventilation on the fixture and keeps the lamp life longer. And, it will not cause light leakage.
3. Sturdy yoke with Positive lock:
The mounting yoke with one side positive lock is for quick and reliable locking, even with additional front load such as scroller.
4. Lamp retaining ring in allowable dimension:
ID113.5 mm lamp retaining rig for O.D. 111 mm PAR36 lamp. A correct allowance not too tight and not too loose.
5. Easier lamp replacement:
Rear plate is screwed, easily and friendly for lamp replacement and wiring.
6. Assorted range available
7. Suitable for all major brands of color changers:
The mounting holes on both sides are industry standard pitch and may fit with major brands of color changers.
Specifikationer:
2x1 meter 3x1,5 kabel
Farve: Sort
4-lite blinder
Information
| | |
| --- | --- |
| Product use condition | B-Stock, as new but used for demo etc. |
| Product warranty | 90 days |
| Product age | 0-3 |
| Product Application Light | Blinders |
| NS Brands | 4-lite |
Share product